Hey, what smells? Oh. It's you.
In infertility, you make up your own rules and somewhere along the way, you stopped wearing deodorant because you believed it affects your ability to get pregnant.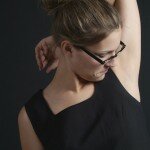 Now, no one has ever told you this and you really have no concrete proof (other than what you read on Google, of course) but one day, you just stopped wearing it and now your pits stink. Infertility has made you crazy. Sometimes you drink a special tea or eat a certain food or even refuse to get your eye brows waxed because YOU believe that it affects your fertility. And this week you've decided that deodorant has got to go. Perhaps your decided that your Lady Speed Stick penetrates into your arm pit, travels down through your stomach to your uterus and produces an anti-fertility chemical. No medical professional has told you this but in your head, it makes logical sense.
To be honest, it is probably not a great idea to rub or spray your deodorant directly on your lady parts but does it affect your fertility? Probably not but you'd rather have stinky pits than find out. Thank goodness you're not a doctor because all your patients would be eating pineapple cores, doing headstands, checking the toilet paper obsessively and looking at the color of their nipples on a daily basis.
10 Responses to "#778 You stopped wearing deodorant"