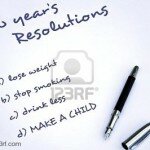 Sure you can have those boring old New Years Resolutions like losing weight, joining a gym or saving money but here are some more interesting ones that ring true for us fabulous infertiles.
Stop using the word 'cervical mucus' in a sentence. This word might be socially acceptable to chat about at your fertility appointment but not as much during your business board meeting.
Stop stalking your fertility clinic. You call your clinic in the morning and they do not call you back until 3pm. It drives you crazy but according to federal law, you don't have the right to keep calling and calling.
Buy toilet paper in bulk. Whether you've been trying for a few months or a few years, buying the TP in bulk is just best.
Think of a creative response when you hear a pregnancy announcement. Sure, crying alone in the bathroom is fun but try to be creative. We suggest "Radical. That sure is neat-o and swell news!" or "Well golly gee wiz. If I'd have known you're pregnant, I would've baked you my special apple tartlet" (say with a country accent).
Stop pre-failing a fertility procedure. Your IUI or IVF cycle is next month but you seem to believe that you already failed it.
Stop buying pregnancy sticks. They don't seem to work and you can save your money for period-related alcohol and chocolate.
Stop crying about infertility in private. You spend a lot of time sobbing in the shower, in the bathroom or alone in your car. How about some open public displays of hormonal rage and hysteria?
Stop glaring at pregnancy bellies (or at least try to fake a smile).
Stop feeling your breasts in public. Do they feel more swollen? Do they feel tender? Squeezing them together in public might scare other people's children.
Contact Facebook and ask them to start banning all ultrasound and belly photos. Ask to speak to FB president Mark Zuckerberg directly.
21 Responses to "#691 Your Infertile New Years Resolution"