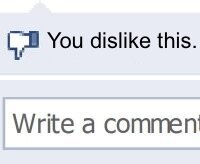 As if FertileBook Facebook is not bad enough.
The social networking site announced this week that they now have an "I'm expecting" option. In the Family section, users now have the option to announce their due date, the baby's sex and name. So instead of just seeing your friend's ultrasound and belly shots, they can now click the "I'm expecting" button (which automatically makes an infertile cry).
Mark Zuckerberg – live in the real world! Here are some other fertility related buttons you should add:
1) "I just got my period and I'm crying on the toilet" button
2) "My transvaginal wand appointment really sucked this morning" button
3) "We're having timed intercourse tonight so don't call us" button
4) "My embryo retrieval was a lot of fun" button
5) "I'm not pregnant yet so stop asking" button
6) "I don't want your fertility advice" button
7) I just stuck a fertility needle in my ass" button
8 ) "I got drunk after my D&C appointment" button
9) "I'm not expecting but can I steal your baby?" button
10) "I pretend I'm not jealous of pregnant women but I really am" button
11) My basal temperature just decreased and I want to shoot myself" button
12) "I cried at a baby shower" button
13) "I am missing a fallopian tube" button
14) "I check the toilet paper 400 times a day" button
15) "Is it a pregnancy symptom if my right breast feels more swollen than my left" button
16) "I have fertility drugs in my fridge, right next to last night's lasagna" button
17) " I glared at a pregnant woman's belly this morning" button
18) "I elevate my legs for 30 minutes, following intercourse" button
19) "I cried in a McDonald's bathroom when I found out my cousin was pregnant" button
20) "Can I have your baby?" button
Clearly, Mark Zuckerberg is not an infertile. DISLIKE!
(Did you win our Ovulation contest? )
45 Responses to "#652 Mark Zuckerberg is not an Infertile"